26/9/18
Deben Rowing Club Win 2018 Yare Cup
Deben Rowing Club were crowned this years Yare Cup champions, taking home four victories. Yare Boat Club (YBC) participated in five races, winning two.
Division 1 saw a fantastic race with three YBC coxless quads in the 'Never Raced Before Plus' event. The winning crew comprised Peter Savage, Sue Spooner, Trevor Williams and veteran Nick Cooper. Together they raced to victory with a final time of 16 minutes 31 seconds, beating the second YBC coxless quad by four seconds.
Mark Moore and Adam Knights secured a second YBC victory, with a winning time of 14 minutes 53 seconds in the Master C/E double sculls.
The day's racing ended with a barbeque followed by prize giving at the club house. The Yare Boat Club would like to thank the Yare Cup Chairman Rod Wood, without whom the event could not take place. Lastly, thank you to all those who volunteered as Umpires, Marshalls, Time-keepers and Caterers.
12/8/18
Rising stars and sad farewells
An excellent turnout on Sunday morning; two quads, one traud, two doubles and a single. Among those who turned up were the two NRB ('never raced before') crews training hard for the Yare Cup (September 22nd). This morning's training session was followed by the second 'Learn to Row' outing. Four rookies turned up, all are making excellent progress and may well form a third NRB crew for the Yare Cup. We are also sad to say goodbye to Claire, who is moving back to Ipswich. Thank you Claire for helping us train the NRB crews, we wish you all the best on your next adventure.
06/05/2018
Perfect conditions for rowing in a single scull. Some went as far as Paddy's Pump while others ventured all the way to the Ferry House.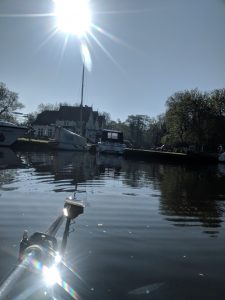 YBC would like to congratulate Lee for passing his senior membership test with flying colours. 
03/05/2018
Allan Boswell Come and Try
A special thanks to all those who volunteered to take Allan Boswell employees out on the river. A fun time was had by all, on a beautiful Thursday afternoon. Some were lucky enough to row in the Liberty II, bearing the Allan Boswell logo. The afternoon row was followed by drinks and snacks. Well done to all those who took part, we hope to see you all on the river again soon.
28/04/2018
Rainy Surlingham Row
After five minutes of discussion, we decided a little rain never hurt anyone, and rowed in a coxless four to the Ferry House. Excellent service and fantastic food to fuel us for the journey back.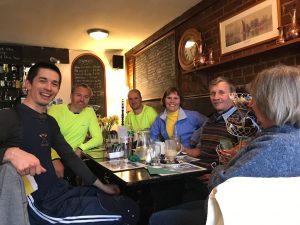 15/4/2018
Sweep rowing returns to YBC!!
This morning, we rowed in a coxless four on the River Yare for the first time – the first YBC coxless fourin 100 years!! It was a very enjoyable experience and the transition from sculling to rowing turned out to be easier than we thought.  I hope we see a lot more sweep rowing at YBC.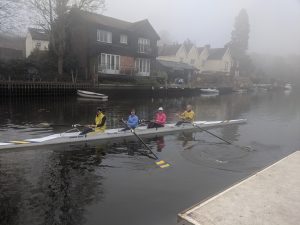 Bow: Nick, 2. Manuela, 3. Manuela, Stroke: Alex
1/4/2018
Paddy's Run Round Seven
The seventh and final round of the 2018 Norwich Masters Sculling Ladder took place on April Fool's Day. It turned out to be the most eventful round; one sculler suffered irreparable damage to his blade following a collision with another sculler near the starting line.
Broadland's Laurence Taylor held off Robert Conway (Norwich) an Anthony Meynell (Yare) to claim the title of fastest man while Lou Green (Yare) was the fastest woman. Tom Hockley (Norwich) was the fastest newcomer while Alex Meadows (Yare) won the Meynell Medal for being the oldest sculler to complete all seven rounds.
Yare Boat Club would like to thank David Wynn and the volunteer time keepers who made this event possible.
31/3/2018
Raising the pontoon
Our pontoon is at last afloat after spending the last few months on the muddy river bed. On behalf of YBC we thank all those who volunteered, including our newest members Yvonne and John.
1/1/18
YBC would like to wish a Happy New Year to all of our members and supporters, new and old.
Here's to a successful 2018 on and off the water.
See you on the river.
23/09/17
Congratulations Harriet Bradnock. Not only did you lead the 'Never Raced Before Plus' crew to victory in the Yare Cup, you successfully passed your senior membership test the following day. We wish all the best for your studies at Cambridge. Who knows, maybe we might see you in the blue boat someday. Good luck, and see you on the river.
01/09/2017
A quick word from the vice-captain:
Firstly, thank you Anthony for asking me to be the Vice-Captain, and a big thank you to the committee, who have put their trust and faith in me to endorse my nomination.
I recognise the responsibilities that come with the role, and will do my best to represent the club in the manner that you expect, when playing other clubs, and at other events. Most importantly, I will do my best to represent you, the members, and to be available as often as possible to meet with you and to discuss any burning issues that you may have.
We all have our places in the whole picture, but a Captain has a special responsibility. This year's captain, like nearly all her predecessors, has had a profound influence on her crew and has actively helped the rest of the club. I have no hesitation in congratulating Jane Budge on a job being well done. She has by quiet encouragement, commitment and sportsmanship, been an example worth following, and she has been a fine ambassador for our club.
Lastly, everybody at the club is an expert in some respect. You are versed, steeped in knowledge and experience. Together we can make a difference: we can't do it without you. See you on the river.
Alex
12/3/17
It's been a while!  However I think we're all now shaking off the winter and looking forward to some good sculling in the spring and summer.
I should give a very special mention to the Paddy's Runners – a hardy, committed, competitive bunch who race to Paddy's and back in singles once a month throughout winter.  We had several members competing this season, with four in the top ten and some very creditable times.  If you're interested in having a go next winter then contact me, Mark or David Wynne.
It's good to see the refurbished Tony Roper back on the river, apparently running well but not yet tested in a race.
Now that the head race season is more or less finished, it would be good to take some crews to a couple of regattas through the summer.   Suggestions welcome, and I'll shortly put out a system for sign-ups, but these are worth considering:
British Masters (Nottingham) – 10/11 June
St Ives – 17 June
St Neots – 22/23 July, and/or
Sudbury – 5 August
Gt Ouse Marathon – 3 September
Nick Cooper is currently away rowing a cruise ship round the world, but when he gets back he has offered to teach sweep oar rowing to anyone interested.  This is relatively easy for scullers to learn, and will provide a bit of variety.  Please let me know if you're interested.
We're going to trial a new Learn-to-Row course this year, with sessions starting on the first Sundays of April, June and August.  More details will be available soon, but all support to make these a success would be much appreciated.  Please publicise it with your friends, family, work colleagues, etc.
Jane
22/1/2017
29/11/16
Tuesday rowers on a golden day
27/11/16
Capsize Drill at Town Close
Everyone fell out/in, no one drowned or got injured and we all learned a lot about ourselves  and capsizing. Best of all the water was quite warm.
Thanks to Sue for organising it.
26/11/16
Well – here goes – the first blog I've ever written (what have I been doing with my life?!).
As this is the first such article on the website for quite a long while there may be an element of 'catching up'.  I'll do my best to keep it brief, I can guess what some of your concentration levels are like!  And to help keep this fresh I'll invite Guest Bloggers to contribute from time to time.  Volunteers very welcome!
 We have the Carrow Cup coming up on 10 December.  It's a fun event from Pulls Ferry to Broadland Boat Club, doesn't need BR membership, and you even get to dress up if you want to.  We currently have a few boats entering, and there's still time to put together more crews (4x or 2x), or please come along and support the crews. See how good (or not) their costumes are, and whether Nick has been persuaded by his crew to dress as a Christmas fairy (yes, really!). My daughter and Pete's girlfriend 'supported' us from the Queen of Iceni pub on Riverside last year (ie I think they looked up from their drinks just as we rowed past!).
How's your rowing kit looking?  Shabby?  Non-existent?  Been associating with something red in the wash?  Great news – Arthur has opened a kit order on the Godfrey's website (see his separate page).  An opportunity to buy (among other things) the club's official yellow top, suitable for racing and also high-viz (see below).  Ideal party-wear.  Put it on your Christmas list for late presents!  The more items we order, the lower the costs.
On to the more important subject of safety.  A couple of incidents recently highlighted the importance of being aware of risk out on the river and making sure you take all the right precautions.  The club's safety guidelines document will shortly be made available on the website – please make sure you're familiar with it.  Don't be complacent!  Meantime some important points to remember:
Stick to the right side of the river and do not be tempted to cut corners.
Wear high visibility clothing, especially if in bow seat or single boat.
Wear warm layers in cooler weather – don't risk getting cold.
Take spare dry clothes and a mobile phone in a drybag.
Hypothermia can affect anyone – don't be complacent, make sure you know the symptoms and how to avoid and treat it.
Be aware of low light conditions – early mornings can be quite dark – and use appropriate lighting. Note that club boats should not be out in the dark.
And another thing … wellies (you didn't expect that, did you?)!  Essential for getting larger boats in and out of the water at high tide.  Get the loose-fitting ones for easy kicking off.
And finally, I hope to see plenty of you at the Christmas dinner on Friday 3 December.  Many thanks to Jemma for organising it and us!