Club Sculling Races 2014 and BBQ
This year these were held to coincide with the visit of our friends from Speyer Rowing Club and in recognition of this a special international doubles event was held, as well as the usual club competitions.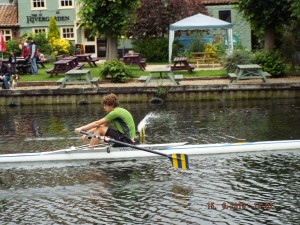 First event of the day was the heats for the Harvey cup handicap race. There were 8 entries Mark, Christine, Carol, Chris F, Simone, Greg, Carolyn and Andy H.
with handicaps of 5 seconds being given to Carolyn and Andy H who are both recovering from recent surgery and also 5 seconds to Chris who is newest to the club. All heats were well contested with finalist emerging as Greg and Mark. In the end it was Greg who came through to take the Harvey cup for 2014 in an exciting final where strength triumphed over style but well done to both.
In the Club Novice/Senior doubles, we there were again 8 entries – Carolyn/Andy G, Anna/Richard, Carol/Anthony, Tina/Rod, Christine/Mark, Claire/Michael, Simone/Andy H, Lou/Greg. This event was unfortunately marred by an incident where a hire day boat drifted in front of the first race and Andy G had to retire with a badly bruised arm. Ian kindly took his place. In the final Claire and Michael narrowly beat Carolyn and Ian.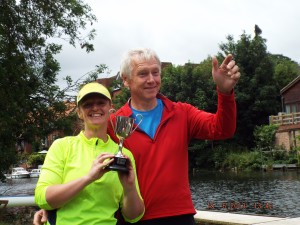 The Ladies Open was a straight final between Catharina and Claire – Claire was the winner.
There was not sufficient time for a Mens open this year due the international event but we would hope to resume this next year.
The crews for the special international doubles event were Klaus and Catharina, Elke and Anthony, Steffi and Ian, Dagmar and Michael. In the final Klaus and Catharina beat Steffi and Ian.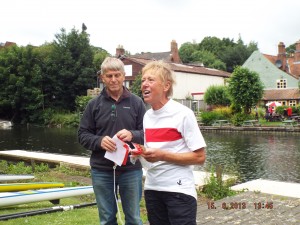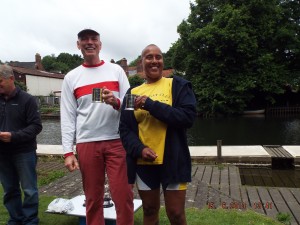 When given his cup at the presentation ceremony, Klaus expressed his delight at his first competitive rowing prize and Steffi presented the club with a Speyer flag which is now hung by the picture gallery at the end of the boat house. Later the event poster was given to Steffi to take back to Germany as a memento of their visit.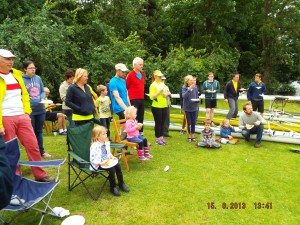 We should express our sincere thanks to all those who helped to make this event such an enjoyable occasion. Special thanks to Nick Cooper who acted as starter, Rod for his culinary skills and hard work on the BBQ, all the members who provided salads and cakes and just everyone who pulled together to make it happen.
Speyer Visit Summary:- Saturday, rowed into the city then went to Take 5 for supper. Sunday, Club races followed by trip to Cart Gap and Happisburgh. Monday, sight seeing in Norwich with supper at the Belgian Monk. Tuesday, row followed by lunch and city view from St Giles Church tower – supper at the Rushcutters. Wednesday visit to the Sainsbury Centre art exhibition, then rowed to "Woods End" and returned to have picnic at the boathouse. Thursday visit to Sheringham Park and cliffs followed by farewell supper at the Rushcutters.