I was very sad yesterday to hear from London Rowing Club that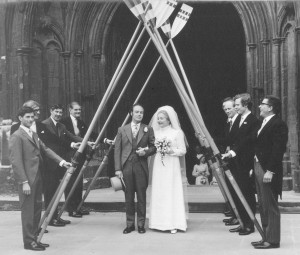 has died. As an active LRC sculler in the 1960s Barry encouraged large numbers to come each year to the Norfolk Long Distance sculls which was then raced from Surlingham Ferry to Whitlingham Green. He moved to Norfolk in the 1970s and married Marion Tracey in a lavish service in Norwich Cathedral. The rather young looking group standing outside with oars are:
Left Side – LRC: Peter Hilditch, Doug Melvin, Graham Beech and John Pepys.
Right Side – Norwich oarsmen: Paddy Walker, Nick Cooper, Tom Harmer and (hidden) Simon Crosse.
The wedding was memorable for many reasons but one was the pair races held in the morning all around Thorpe island starting stern to stern at the Yare Boat Club. Prizes for the winners were 
presented during the groom's speech.
Sadly I lost contact  with Barry not long after when he moved away from Norfolk but he will be remembered by many as a very good friend of Norwich rowing.
Nick Cooper.
PS Anyone having email addresses for Paddy or Tom Harmer please pass this on – thanks.