Summer finally arrived on Saturday 4th June in time to provide ideal conditions for 11 YBC members, accompanied by three from  Broadland B.C. and one from Maidenhead R.C., to paddle up to the Surlingham Ferry pub for lunch, returning later. As usual, Tony had arranged the tide to be at exactly the right height and landing on the improved quay heading was much easier than usual.  12 non rowers and supporters joined in to make a very enjoyable occasion.
Chris F., Jonathan, Christine and Rod made up one quad and Inger and Lisa (the returning vikings) joined the two Amandas from Broadland in the other. Pete, Sue, Katherine, Sarah (Maidenhead) and Lawrence (Broadland) made it in singles while everyone was shown up by the "Mark Anthony" double training hard for the National Masters regatta next weekend. Andy and Tina (clearly too exhausted after a paddle in the Lake District) joined Tony & Nick as non rowers. 8 visitors came to join in including Bryan (BBC Chairman), Lotte (Nick's wife), Margaret & Harry (Tina's parents), Derek & Nancy (Inger's parents in law with sister in law Jenny and her husband John).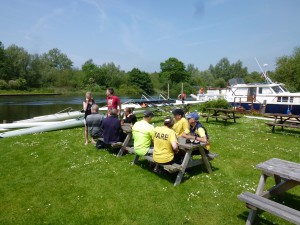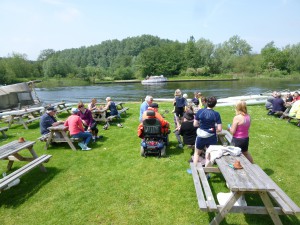 Nick Cooper (with apologies for any names missing or misspelled).