Amazingly, the weather was mild and calm for the Lincoln Head (3.2km) on Sunday. (Not your usual shivering wait for the start!) Even the forecast rain held off.
Anthony and David raced in their Masters G double and took a medal – beating the younger F crew who started one place in front. The younger crew could not be caught, so the race was flat out all the way, with just the faint impression of the other boat keeping pace ahead. On times, the Yare crew beat the Derby combination by 3 seconds, and with the adjustment for our age category we were faster than all the other masters and even the senior doubles. Sculling behind and into a strong stream coming down from recent rain required good concentration and made it a hard race.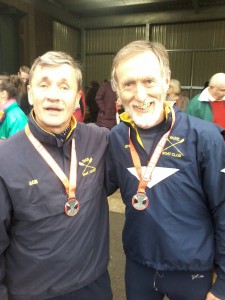 The Lincoln Head is a well organised event on the Fenland River Witham and can be recommended for some early spring competition from many East midland and Yorkshire clubs in preparation for the regatta season.
Anthony and David are hoping to compete at this year's masters championships, Henley Masters and the Wold Masters (September, in Bled) and the Lincoln, Norwich and Boston heads have been useful starts to 2017 racing.