YBC hosted the Yare Cup on Saturday 23rd September. An annual event, it attracted more than 60 rowers (masters, novices and juniors) from 9 clubs, competing in a variety of boats along a 3700m course. Congratulations to all those who participated this year. St Ives Rowing Club were crowned this year's Yare Cup winners. YBC took part in six races, winning three – a great day for the club all around.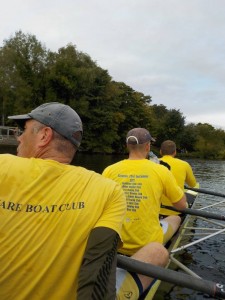 Division 1 saw fantastic times from Adam Knight, Mark Moore, Arthur Wilkinson and Andy Cocks in the Masters C 4x-, finishing the course in 13 mins 34 seconds, only 6 seconds behind the NRC coxed quad.
The W.Mas C/D 4x- saw Manuela Martino, Carol Warman, Lisa Hardman and Inger Mak-Pearce finish second behind Broadland with a final time of 14 minutes 57 seconds. Well done Ladies.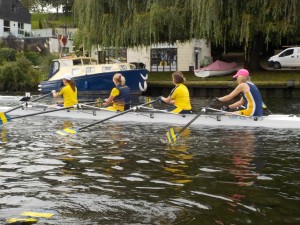 The 'Never Raced Before Plus' crew comprised newcomers Harriet Bradnock, Kenny Crowe, Noe Kartones and veteran Ian Postlethwaite. Together they raced to victory with a final time of 15 minutes 59 seconds, beating NBC by more than a minute.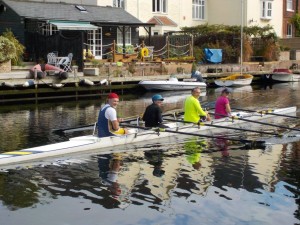 Afternoon division saw two more wins for YBC. The Mas C/G 2x saw YBC Chairman Anthony Meynell team up with David Wynn, finishing first in their event with a final time of 12 minutes 32 seconds. Vice-Captain Alex Meadows won the Novice 1x with a time of 16 minutes 10 seconds. After steering the Phoenix to victory in the 'Never Raced Before Plus' category, Ian Postlethwaith finished third in the Mas D/F 1x.
The days racing ended with a barbeque followed by prize giving at the club house. The Yare Boat Club would like to thank the Yare Cup Chairman Rod Wood, without whom the event could not take place. Lastly, thank you to all those who volunteered as Umpires, Marshalls, Time-keepers and Caterers.
Here's looking forward to future successes from the club.
Alex Meadows
(Vice-Captain)