28/02/2018
The cold snap and windy conditions were not enough to keep YBC from participating in their first regatta for 2018. This year, nine of our members participated in the Norwich Head Race, hosted by the Norwich Rowing Club. The course covers a 5km stretch of the River Yare, from River's Court to Whitlingham Green.
YBC Chairman, Ant and Charles (Molesey BC) rowed the newest boat, Liberty II to victory in the Mas.C-G 2x with a time of 22 minutes 41 seconds. Mark and Adam finished 2nd, achieving the same raw time as winners Ant and Charles.
The women's quad (Manuela, Lisa, Inger and Kerry) rowed Rhythm & Blues to a brilliant 2nd place with an adjusted time of 22 minutes 3 seconds, only 37 seconds behind Champion of The Thames Rowing Club.
Norwich Rowing Club won the Open 1x in 21 minutes 10 seconds while Greg and Alex battled the wind and choppy conditions in their single sculls, finishing 5th and 6th with respectable times of 23 minutes 19 seconds, and 23 minutes 32 seconds.
Congratulations to everyone who took part. YBC would like to thank the Norwich Rowing Club, organisers and volunteers for making this a successful event.
Alex (Club Captain)
Ma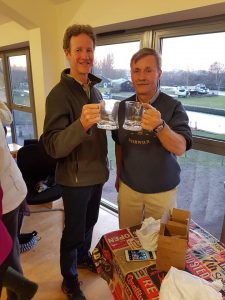 s.C-G 2x Winners: Charles (Molesey Boat Club) and Ant (YBC)