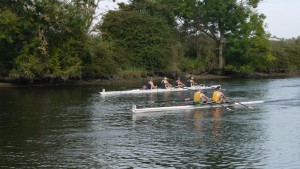 Saturday 24th September. CANCELLED.
The Yare Cup Small Boats Head is a 3.7km head race on the beautiful River Yare, from the Bramerton Woods End corner to the "regatta finish" at Whitlingham Green and is run under BR racing rules and RowSafe.
The Yare Cup is presented to the club winning the most events on the day (minimum entries of 10 crews to qualify).
The Organising Committee very much regret that the 2022 competition is CANCELLED. This is due to the low number of entries, insufficient to make competitive events.
Enquiries to: race@yareboatclub.org .
2021 – no race (Yare Boat Club, the host Club, was re-structuring)
2020 – no race (Covid)
2019 – Sunday 22nd September

Winners of the Yare Cup were Yare BC

2018 – Saturday 22nd September

Winners of the Yare Cup were Deben RC

2017 – Saturday 23rd September

Winners of the Yare Cup were St Ives RC
Previous years' results