We had a really successful day at the Ouse yesterday. Conditions were nearly perfect with warm weather and no wind. The only issue was the floating weeds which were plentiful – see below.
Lawl Taylor (MasG 1x) had the standout performance, not just winning his category, but in a time of 1.42.34 which is incredible in a single. A new course record by over 5 minutes, and in fact would have beaten the MasF 1x record (which he already held, but lost yesterday), by 4 minutes too.
Ross, Phil, Stu and Mark Moore (who was a last minute replacement) had a great race. As a scratch crew, they won their division (MasE 4x-) in a time of 1.38.32, but that included a stop for Mark to swim around to the back of the boat and clear the rudder of weeds!!! Yes a swim.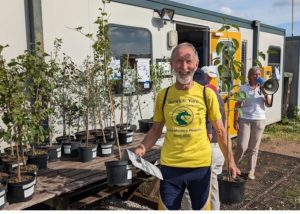 David and Julian Ringer (NRC Chair) won their category too (MasF 2x-) in a time of 1.44.35 by a clear 5 minutes. This is despite the fact that they are actually a G and dropped a category to get competition.
And finally, my crew of Flo, Lewis, John H and me clocked the 2nd fastest time of the day at 1.31.37 despite this being only our 3rd outing together. No competition for us sadly. The fastest boat was a double who clocked an impressive 1.28.51 as a MasD!
So all in all a great day with many pots won.
Interestingly the pots were trees in a pot- a different approach.
Piers Herrmann