Race Report St Neots Regatta 22nd July 2023
You could probably sum up the whole day as a damp squib. But never being one to use 2 words when 600 will do, here is a bit more detail.
We arrived in St Neots in pouring rain, and that was one of the 2 main themes of the day, along with racing handicaps. Fortunately for all of us we had brought one of the pop-up marquees. So after a quick rig of the first 2 boats we got the marquee up and sheltered underneath.
First up was the Mas 4x- of Piers, Ian Pos, Flo and Nathan S. Our first race was a fairly simple walk over as our Doncaster opposition missed the start, due to poor calls from the umpire, but never really got going. So we treated it as a practice session.
But in the final we came up against the well drilled Norwich quad who beat us last year (with one crew change). Since we were practically a scratch quad, with just 2 outings practice, we had to rely on brute force. Norwich as an E had a 7 second handicap and used it well. We steered a good course and down the last 500m we gained relentlessly on them. But it was not enough and they won by 2 lengths.
Next up was a new race for Yare, a 4+ in Ali Sursham (once again a virtually scratch crew). They had to move to "Open" to get competition, so as a Masters D scratch crew they were always going to find it tough coming up against a crew of 24 year olds!! But every race is practice and so this one was too. Sudbury beat them easily, but the crew came away pleased with the way they had rowed once they settled in. Particular mention to Alison Pead as her first race coxing!!
And so we waiting over lunchtime in the rain and increasing wind for the last division and our 4 scratch doubles. All of them took place in the pouring rain!
Ian H and Phil were up first as an E double. With their opposition an F double from Maidstone Invicta having a 10 second handicap start, it was always going to be hard, and so it proved, with an easy victory for Maidstone despite solid rowing from our guys.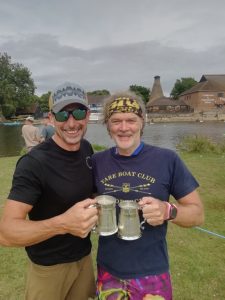 Next were Flo and Ian P in a D double against a D double crew from Doncaster. Ian and Flo pushed through to win comfortably by 2.5 lengths.
Then Piers and John H in another D double. Our opposition was another F double, but this time from Deben/West End NZ (yes New Zealand). But it turns out they row together regularly and in fact won at St Neots in 2022 in F. They had an 18 second handicap advantage, which put then well ahead. We never really stood a chance against a seasoned crew who rowed smoothly and they won easily.
Nathan and Ian in another double D had a bye to the first semi final and met the Maidstone crew. Same result as with Ian and Phil. The 18 second handicap was just too much and Maidstone won easily.
Finally, Ian P and Flo were up against the Deben/West End crew in the other semi. Sadly, once again with the 18 second handicap, the result was the same, with a win easily for Deben. Deben went on to win the final.
After an extra miserable de-rig and loading of the trailer in the continuing rain, there was only one thing to do. So we retired to the beer tent for a quick pint, lots of cakes and lots of smiles and complaining about the BR handicap system.
And just to round off the perfect day, the trailer then got a flat tyre. Looking forward to Sudbury in 2 weeks!
Piers Herrmann Club Captain.