Ben & Alison started off the day in their mixed double, winning their semi-final, but being pipped to the post in their final.
Shelagh and Fee had a good outing in their double, but were sadly beaten.
Alison was out in her first ever singles race and did really well, but was beaten by 1.5 lengths. Anyone who has done side by side singles knows how nerve warcking it can be, so that was an excellent first result.
Shelagh came back out in her single to win her semi final. She then went on to lead her opposition in her final until the dying moments when her blade caught the bank. She lost by 3 feet! Gutted.
Ben was also out in his first singles side by side race. Both he and his opposition had some sightly erratic steering during the race, but it just made for a close finish with Ben losing by 1.5 lengths as well.
Nathan went out and smashed it! He won his semi and then went on to a close fought final which he won. His first ever singles pot!
Sadly the same cannot be said of me. In my single the 6 second head start for my older but competent opposition just proved too much. Whilst I closed the gap to 1-2 seconds, I lost.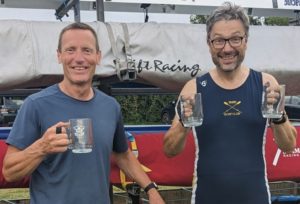 And finally Nathan and I went out in our double and won "easily" against Milton Keynes. We were tidy and efficient, and they weren't. We did have a 4 second handicap advantage, but we won by about 20 seconds, so not really needed.
Piers Herrman- Captain